Welcome to the Site
Welcome to Blackjack Primer. Here you can learn the rules and playing strategies of Blackjack to enable you to play confidently and increase your chances of winning. Whether you are a novice to the game, or an occasional dabbler, this simple primer will help you improve your game, increase your odds and help you win.
Use the navigation menu to the left to browse the sections of our Primer. If you are new to Blackjack, or want to brush up on how it is played, we suggest you start out with the Rules section of the site. For advice on improving your game and shifting the odds into your favor, check out the Strategy section.
New Article:
Read about a new Single-deck game of 6:5 Blackjack that the casinos are hoping you'll play. We'll tell you why you shouldn't plunk down your chips just yet. Read More.
Origins of Blackjack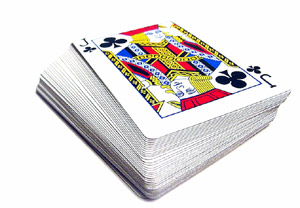 The popular game of Blackjack was first played in France in the 1700s where it was called vingt-et-un (twenty-one).
Over the years it has grown to be one of the most popular games of chance in the world. It is especially popular in casinos in Las Vegas, Atlantic City and other gambling centers all around the world. The number of Blackjack casino tables there exceeds that of all other table games, and after slot machines, it is considered as the most popular form of recreational gambling.
Many small children learn to play Blackjack at home or with friends using matches or candy to "gamble" with. Most serious adult gamblers know Blackjack as one of the few games that can be winnable, even at casinos, where rules are often stacked in the house's favor.